2011-2018, Ethica work without obstacle
Patrick Fontana, artiste
Bachir Soussi Chiadmi, Kevin Tessier designers (Figures libres)
Production Emmanuel Ryz, Patrick Fontana.
"I shall consider human actions and desires in exactly the same manner, as though I were concerned with lines, planes, and solids." Spinoza, Ethics III, Preface.
Among all the texts that I have studied and used in my work as an artist, Spinoza's Ethics is the one that most moved me and that has brought me a great joy. A new dimension of thought has been offered to me.
What immediately aroused my interest, then my passion, is the system of thought set up, the way in which all texts interact. A meeting so strong with a text, besides difficult, questioned me and get me to work.
notes dessinées on Spinoza
My first idea was to make the Ethics a digital installation. All texts (932) were entered in the form of geometric projections in perpetual motion, on a three-dimensional digital plane. The installation was already accompanied by sound recordings of philosophers, researchers, and enthusiasts of Ethics.
But the spectacular side of the installation did not suit me, and moved me away from the desire to propose an immediate encounter with the philosophy of Spinoza by plunging the reader directly into the Ethics.
The idea of a digital application soon came up to me because it made it possible to expose the text in an innovative way without proposing my interpretation.
Creating an application was totally foreign to me, it took me time to learn and find the right people to accompany me in this project.
In 2013, I received grants for Ethica of the Centre National du Cinéma et de l'image animée (CNC) and of Société Civile des Auteurs Multimédias (SCAM) which reward artists who work on new digital writings. The project could start.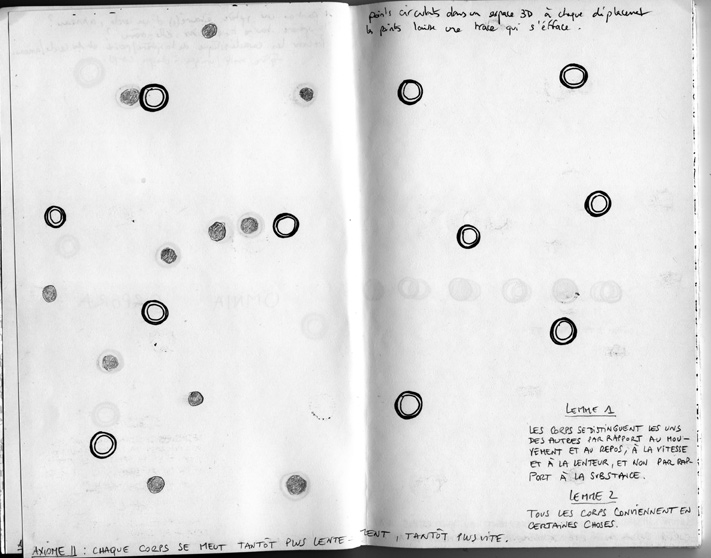 I started contacting philosophers to talk about the series of video reviews that would accompany the user in his readings of the Ethics. They were immediately enthusiastic and by the end of 2013, more than 70 philosophers from around the world wanted to participate to this project. Today, they are more than a hundred.
The many philosophers I encountered throughout the development of the application helped me to better understand the Ethics, why this book was also important to its readers. I also heard their expectations of a digital tool. They trusted me and encouraged me to continue Ethica.
Model Ethics ?
2010
The place of the computer tool in my work has always been questionable. I need to demystify the technical devices I use.
The first graphic on all the connections between the texts was made with the software Pure Data in 2012.
graphe pd ethica 2010 from Patrick Fontana on Vimeo.
In 2013, I proposed to Vincent Rioux, head of the digital department of the School of Fine Arts of Paris, to develop together a 3D digital graph (called ALLi -ALL the links-) of the connections between the texts.
export01 from Patrick Fontana on Vimeo.
ALLi did not allow to read the ethics from the connections between the texts, in a fluid and intuitive way. The 3D became too sophisticated and could be a brake to read the text.
So I developed other graphs.

The graphic the Rigorous Counter-Point is the basis of the developments found in the application.
All these graphs could be confused with a representation of the Ethics. Some wanted to see a cathedral, others a planetary system. The challenge was not to propose a univocal representation of the Ethics, but to make visible the connections between the texts, the freedom and the infinity of paths that the reader has to approach the text.
The first version of the application is the result of this artistic research. It is incomplete, because the lack of funding has so decided, for now.
But as Henri Atlan wrote to me one day: "Take all your time. Spinoza is in any case a kind of eternity."
Philosophy and life.

Throughout this work, I sought to develop links between Spinoza's philosophy and life.
In parallel, I was conducting a workshop of recorded readings, based on texts of poetry and literature, the workshop Lectures de Bouches, with people learning French as a foreign language.  A partnership between the contemporary art center Khiasma directed by Olivier Marboeuf and the basic training workshop (directed by Rose-Marie Ryan) of Emmaüs-Solidarity association, in Paris whera was going Lectures de Bouches. In 2014, I invited the philosopher Nathalie Chouchan to participate to the workshop where we were able to read and discuss Ethics excerpts together. Recordings of personal texts from these discussions were also produced.
Spinoza Tout-Monde on line !
https://r22.fr/programme/spinoza-tout-monde/

I thank all those who accompanied me on this project, in particular, Emmanuel Ryz, producer with me from Ethica, my wife Dominique Brighigni, Pierre-Yves Fave, Nathalie Chouchan, Catherine Le Moulec, Michèle Cristofari, all the philosophers in particular Mauricio Rocha, Roberto Brandão, and Jean-Pierre Dozon, scientific director of FMSH who had the open-mindedness to invite, for two years, an artist, to the  Fondation Maison des Sciences de l'Homme.
Ethica, work without obstacle, is funded by Conseil régional des Hauts de France, a thematic and structuring project 2015-2018, research unit Centre de Recherche en Arts et Esthétique (CRAE, EA4291), University of Picardy Jules Verne, France. Scientific officer : Lorenzo Vinciguerra. Scientific partner : El Mustapha Mouaddib, Modelling, Information and Systems laboratory (MIS, EA 4290, UPJV).
Scientific committee : Laurent Bove, (UPJV), Pierre-François Moreau, (ENS, Lyon), Julie Henry, (labo SPHère Paris-Diderot), Lorenzo Vinciguerra, (CRAE).
Patrick Fontana received in 2013, the grant Brouillon d'un Rêve Pierre Schaeffer from Société Civile des Auteurs Multimédia (French multimedia publishing rights society) (SCAM), and the grant aide à l'écriture et au développement aux nouveaux médias from Centre National du Cinéma et de l'image animée, France, (CNC), after the unanimous decision of the jury.
Patrick Fontana and TYGRYZ CompagnY, received in 2016, the grant aide à la production DICREAM from Centre National du Cinéma et de l'image animée, France, (CNC).
Ethica has been hosted and supported (2015-2016) by the Fondation Maison des Sciences de l'homme, Paris, scientific director, Jean-Pierre Dozon.
The Social and Political Thought Research Group, Brunel University of London participated in the financing of Ethica's teaser in 2015.